How does a Mobile App help you grow your business
Gone are those days when Mobile Apps were a reserve of large corporations and businesses. Well, that trends has  changed rapidly over the past few years. Today, smaller companies are serving clients better and seeing much greater returns on investment thanks to mobile apps.
The bottom line today is very simple — you definitely need an app associated to your business for a better visibility.  The fear of high priced developers does not need to be a deterrent any longer, so there's really no need to put it off.  The right developers like iLeaf Solutions can get your business on the path to a mobile presence is a matter of days.
With the right planning and a clear picture of what you want your app to do, you can simply plug and play your app right into existence.
Here are a few ways by which you can grow your business using a mobile App
Increase Visibility to Clients at All Times
A recent study shows that on an average a person spends over two hours on the mobile phone daily. Globally, there are more than a billion smart phones. So, the fact that people these days spend more time on phone than on PCs is great for businesses.
Your business will be exposed to numerous eyeballs if you have a mobile presence. Your image, name and logo needs to be seen when these masses scroll, unlock, and do whatever they do while on the go.
Humans have their devices either on their fingers, palms or pockets. We like using them when waiting at the bus stop, riding to and from work and even when watching TV All these are suitable times to send a notification to prospective clients.
If you offer internet-based services or products, make use of a mobile app to make sales. Make it possible for clients to do the same things that they would conventionally do when sitting in their offices. Offer valuable solutions for customers remotely.  The more opportunities you offer potential customers to reach you,  the better off your business will be.
Market More Directly
Mobile apps bring a lot of information to your business about your customers. Examples are demographics and geographical locations. More importantly, you can give a lot of information to your clients about your products and services.
Examples are news feeds, product specifications, new features, prices, promotions and special rates. You can know the preferences of certain customers and meet their individual needs. The fact that you are marketing more directly is a huge advantage.
Build Brand Recognition
Whether your business is new or well established, you can enhance its recognition using a mobile app. Simply create an app with likeable features and you will mesmerize your audiences. Instead of putting up an expensive billboard, construct a functional app. After all, not everyone actually pays attention to or heeds the messages displayed on billboards.
Find a way to get your clients involved in your app regularly. The more often they interact with it, the more likely they will actually like the products or services it sells. This rule of the thumb in advertising is called effective frequency. It states that if customers see the brand more than 20 times, then it is truly be noticed.
Increase Customer Engagement
All clients need a way to reach the business that sells a product or service that they are interested in. If you are unreachable, you run the risk of losing customers. A mobile app therefore comes in handy at enabling this reach. Have a help desk on the mobile platform where customers can post their questions, orders, comments and complaints.
If you can reply to all their communication personally, then your customer engagement is great. Make the booking or ordering procedure as simple as possible yet secure. People are discouraged by lengthy procedures. They might even find it easier to click the 'Back' button than the 'Next' button.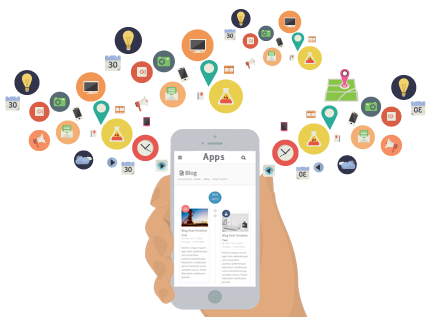 Stand Out From the Crowd
The fact that a mobile app sets you apart cannot be overemphasized. Take advantage of this effective communication and marketing tool while it is still rare. By the time your competitors are realizing its importance, you will have grabbed almost the entire market share. No matter what you sell, you can take a commanding role among your peers.
Just by a tap of a button, your clients are able to see your products and services. That mobile apps are fast, easy, and simple to operate is a fact you need to capitalize on. This ease can drive customer engagement and loyalty to an unprecedented level.
Turn Your App Into a Social Platform
Integrate numerous social features into a mobile app. A study once revealed that most people on social media just log in to see what their friends are saying. Incorporate this idea into your marketing strategy so that people actually see your brand while they catch up with their friends.
Include features like in-app messaging, comments, likes and photo-sharing capabilities. Additionally, enable logging in to the app via Facebook and Twitter. This approach has proven effective in increasing customer engagement, repeated sales, retention and monetization.
Complement Your Website with Mobile App
Many marketers operating on a shoe-string budget usually ask this question — "Do we need an app if we have a functional website?" The truth of the matter is that a mobile app complements the capabilities of a website. Where a website attracts new customers, a mobile app creates customer loyalty.
A website needs clients to open a browser and enter the website URL. On the other hand, all a mobile app needs is a single touch on the screen of a smart device. A website is a great platform to offer information and to post content such as copy, videos and photos. However, it may not enable the two-way communication that an app boasts of.
Have a functional website is the place to start. After attracting new customers, urge them to download your app on their mobile devices. After that, use the app to generate profitable opportunities. Create engagement by encouraging user reviews and interactions. As you build brand loyalty, expand your reach to social circles and deliver personalized shopping experience.