Android Oreo: New Features & Changes
Android Oreo is the latest version of Google's mobile operating system that's now available  for selected devices. Android Oreo may not be the flashiest release, however it has got tons of under the hood changes. This new version has many changes ranging from revamped looks to under the hood improvements, so there's tons of cool new stuff to explore.
Android Oreo brings a lot of new features such as picture-in-picture, auto-fill, integrated Instant Apps, Google Play Protect, faster boot time, and much more.
Let's take a look at the new features Android Oreo have.
Picture in Picture Mode
Following in the feature of Android Nougat's split screen mode, Android Oreo now allows apps to be viewed in Picture-in-Picture mode. This is a special type of split screen window that should be useful for watching videos while interacting with other apps. Though apps will need to be updated to support the new API. So far, PiP feature works with VLC and YouTube apps.
Revamped Settings Menu
The most notable visual change is a redesigned Settings menu, which features subtle dark gray text on an all-white background. Strangely, the side navigation menu introduced in Android Nougat is gone, but all of the various menus have been reorganized to make the Settings area as simple and straightforward as possible.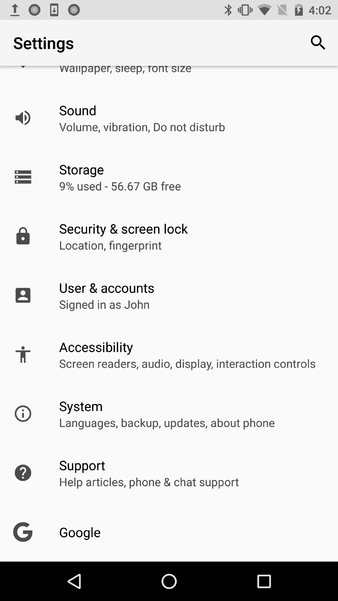 Battery Friendly Background Restrictions
Android Oreo may finally fix issues with standby battery drain. Doze Mode helped quite a bit when it was introduced with Marshmallow, then improved upon with Nougat. But now, Google has introduced even more restrictions for the background tasks that app performs.
Background Execution Limits being introduced in Android 8.0 will ensure that apps won't run wild with background services or keep listener services open at all times. Even more helpful, apps can only request location updates "a few times each hour." The location restrictions will apply to all apps, regardless of if they were built for Android 8.0 or an older version, so it seems Google is really starting to hunt down on battery drainers.
Turn on Wi-Fi Automatically
Another interesting feature introduced in Android Oreo is Turn on Wi-Fi automatically. This feature will help the users who don't have access to Wi-Fi at work or school. When you turn off your Wi-Fi radio in Android Oreo (by disabling Wi-Fi in Settings or toggling the Quick Settings tile), everything will behave as it normally would. So you'll save battery by not having your phone scan for access points all day. But when you get back home, Oreo can use your phone's location to see that you're back at your home or Wi-Fi hotspot, and it will automatically turn your Wi-Fi radio back on.
You can find this option under Network & Internet -> Wi-Fi -> Wi-Fi preferences. With the "Turn on Wi-Fi automatically" switch enabled, your phone will always enable Wi-Fi on when you're at a location where you've connected to a Wi-Fi network in the past.
Redesigned Battery Menu
Android Oreo's battery menu redesigned, but it's more than just a visual refresh. Easy access to common battery-related options such as Adaptive brightness and Battery saver near the top of the menu, and the battery usage graph is a bit easier to read. But the most interesting change here is a set of statistics at the bottom of the main menu, which tell you specifically how much of your battery was used by mobile network scanning and the device's display.
Autofill Framework
For earlier Android versions It was not possible to Autofill forms, only chrome and some other web browsers were having this facility. This feature is very helpful for users in filling long forms. Now it is available in the Android Oreo and your apps can take advantage of it. All you need is to provide some metadata to the OS to autofill the input data.
Autofill Framework will allow apps to create and manage their own lists of auto-fill data, then Android Oreo will populate this data into password fields when appropriate. By default, this feature uses passwords from your Google account, provided you've saved them in Chrome or with Smart Lock.
Rescue Party
We all know that every software has bugs, it's an unavoidable fact. But with new Android Oreo, when a fatal bug arises and your device starts crashing, the operating system will attempt to automatically fix the issue. This new feature is called Rescue Party, and it basically applies a series of escalating fixes when your phone repeatedly reboots, or when a persistent app continuously crashes.
Notification Channels
Notification channels allow you to group related notifications into dedicated channels, and then define a different behavior for each of these channels. For example, the Gmail app could make separate notification categories for your work and personal accounts, or for your various inbox categories.
When an app has been updated to use the Notification Channels feature, you'll be able to control the priority and visibility of each type of notification posted by that app. Using the Gmail example, you could mute work email notifications during off hours, or completely hide notifications that originate from a particular inbox category.
Notification Badges on Icons
Android has a robust notification system already, to improve up on this Google has decided to put notification badges on home screen icons. But former iOS users will be happy to know that Android Oreo now has support for "Unread" badges on home screen icons. Your launcher will have to support the new feature, but it can be enabled or disabled on a per-app basis from within the "Apps & Notifications" menu in Settings.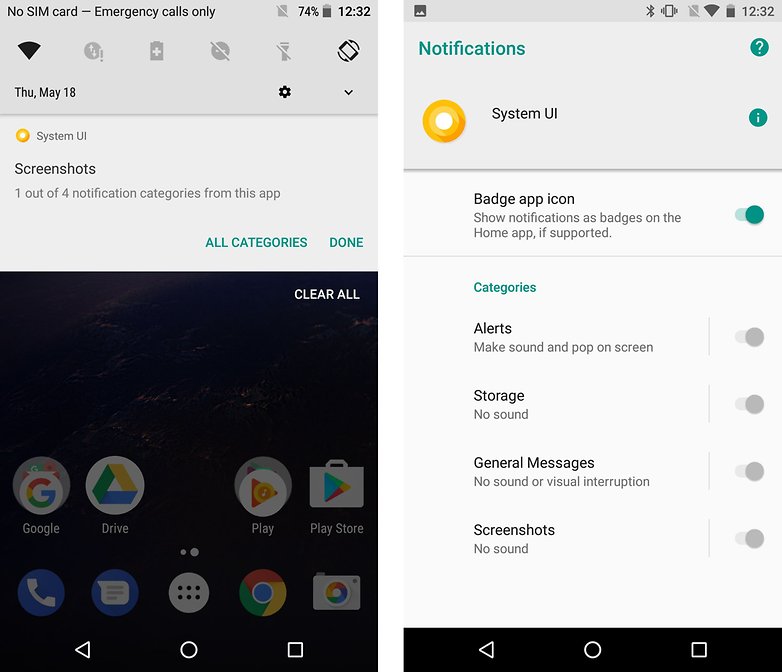 Snooze Individual Notifications
One of the best Android Oreo feature is the ability to snooze individual notifications. When a message is received, but you don't have time to deal with it, just swipe to the right, then tap the clock icon to snooze the notification. This will make the message go away for 15 minutes, then displays again when the time is up. You can also change the snooze time after you've snoozed a notification.
 Adaptive Icons
Google introduced the concept of rounded home screen icons with the release of Pixel devices. This, combined with Android's usual freeform icons and Samsung's squircle style, means that there's now some serious fragmentation with app icons. To support all cases, app developers would have to include circle, square, squircle, and freeform icons in each of their apps, and that's probably asking too much.
With this new feature in Android 8.0, developers can create a single, unified app icon, and the system will do the rest. When an app offers an Adaptive Icon, Android Oreo will automatically crop and align it according to the system settings. From a user standpoint, this means that once apps get updated with Adaptive Icons, all of your home screen icons will be of matching shapes.
Wider Color Gamut in Apps
While editing photos in a professional style, it is most important that what you are seeing on your screen is exactly how the final image will look like. The trouble is, some modern Android phones support a wide color gamut, but Android apps have not had this capability. So now, Android Oreo will allow apps to use wide color gamut profiles such as AdobeRGB or Pro Photo RGB on supported devices. This means that what you see in your favorite photo editor is what you'll see on other high-end displays.
Smart Text Selection
Copying and pasting text on your smartphone was not a good experience. But with Android Oreo's Smart Text Selection makes it better by automatically recognizing text content. When you highlight an address, phone number, email address, or name, you'll get contextually relevant shortcuts to the dialer, Google Maps, and other applications.
Wi-Fi Aware
Wi-Fi Aware has some promising functionality in Android 8.0. Without needing to be on the same Wi-Fi network, devices running the new Android version will be able to discover one another, then create a private network between them that can allow the devices to share data amongst themselves.
Aside from the framework being included in Android Oreo and an API being made available to developers, there isn't much real-world use for Wi-Fi Aware just yet. Though, it could be used for purposes like speeding up Android Beam file transfers, or implementing a type of Apple AirPlay-like functionality with media sharing.
New Emojis

Most of the above-listed changes have been around since the first developer preview build of Android 8.0. But one major change that came in more recently is a set of redesigned emojis. Google has finally replaced the blob-shaped smilies in favor of more traditional rounded ones, and most emojis now have a gradient applied to them.